You yes YOU, have the ability to shift things exponentially today. You always hold this power and today you get an extra boost from the stars. Read on for journaling prompts.
---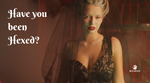 We are often asked how one can tell if they are hexed. Unfortunately, the answer really isn't a simple one - it's complex in that many of the signs and symptoms of a hex are similar to the inconveniences and upsets that happen in day-to-day life. So let's start with potential symptoms.
---
I know, we want to see the positivity in angel numbers and Numerology but if you look at these signs as advice it could save you a world of trouble in the end.